form
Foraging Friday!: In-Person Event Signup
Contemporary Native Art, Issues and (Mis-)Understandings: In-Person Event Signup
Description
Image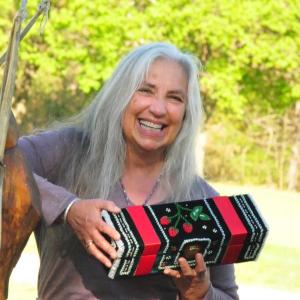 Join National Heritage Fellow Karen Ann Hoffman of the Oneida Nation of Wisconsin for a conversation about Contemporary Native Art, Issues and (Mis-)Understandings. Warning—some topics may be triggering for some attendees. Karen Ann will share a presentation of her art, songs, and stories focusing on a 2-way discussion comparing the ways Western and Native cultures understand the role of Art. The broad ranging conversation will include an in-depth discussion of her multi year efforts to raise awareness about the Mass Native burial site on the grounds of the University of Wisconsin-Stevens Point. We'll also touch on the ongoing tragedy of Missing and Murdered Indigenous Women and the discovery of children's graves at Residential Schools. Karen Ann will also encourage attendees to "Ask an Indian Anything!" as a way of openly and gently addressing questions, concerns and (mis-)understandings they may have.
Photo by Jim
About Karen Ann Hoffman:
Karen Ann Hoffman is a Haudenosaunee raised beadwork artist and citizen of the Oneida Nation of Wisconsin. Hoffman lives, hunts, and gardens in a rural area of central Wisconsin sheltered by trees and grasslands and poised on the edge of a marsh.
Raised beadwork is a rare and elegant style whose forms and designs reach back over fourteen thousand years. It is a cultural hallmark for those of the Six Nations, linking the lessons of their past with the celebration of their today and the joyful anticipation of their future. It is this long and deep cultural connection that beckons and inspires her. "As a beader," she says, "it is my privilege and responsibility to peer through that cultural lens, reflect on contemporary Indigenous experiences, and describe what I see on a field of velvet using glass beads and a steel needle."
A slow and thoughtful beader, Hoffman often spends a year or more in the creation of one of her legacy pieces. crafted to be exquisitely culturally connected, these pieces are brought to life slowly and gently. They speak, she says, not for her as an individual, but for her People — past, present and future. They sing the lessons of their Ancestors in voices strong and clear.
Part of the Teejop and Beyond: Celebrating Native Nations of the Great Lakes series in partnership with Ho-Chunk Gaming Madison. Visit madpl.org/teejopandbeyond for more info.