events
92152
Legacy Box Workshop, day 1
Legacy Box Workshop, day 1
Description
Image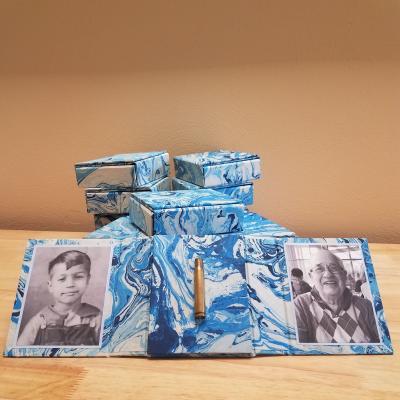 Legacy Boxes offer a way to commemorate a special family member or event. Legacy Boxes are handmade, unique to each workshop attendee, and can be folded to sit on a shelf or display as a triptych. Attendees should bring small item/s and photo/s to add into the box; the dimension inside the box are about 1".  Bring an open mind, flexibility and an idea of a person, project, or memory you would like to honor in your legacy box.
This is a 2 day workshop (12/2 & 12/3) and registrants must commit to attend the entire 4 hour sessions on both days. Breaks will be included.
This workshop has been developed for an intended audience of older adults 60+.  Others welcome to register, space permitting. If registration is full, a brief waiting list will be kept for any cancellations. Call 608-224-7100 for more information.
Instructor Bio:
Angela Johnson is a professional artist, creativity coach and educator based in Wisconsin. She earned a master's in Art Education, an MA in Art and an MFA with a focus in photography from the University of Wisconsin-Madison. https://angelajohnsonartist.com/
She works between photography, bookmaking and box making. Her work includes themes of nature, balance, and telling stories through individual and collective memories. She often incorporates scientific elements and concepts into her work. Collaborations with other artists and scientists energizes her creativity.