events
91674
Creative Journey 3-D workshop with Artist-in-Residence Angela Johnson, day 2
Creative Journey 3-D workshop with Artist-in-Residence Angela Johnson, day 2
Description
Image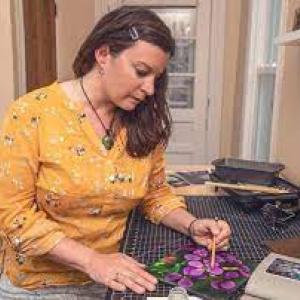 3D timeline Creative Journey, Part 2
Explore your unique creative journey in a two-day workshop (10/29 & 11/5). We will have free writing and mind mapping taking a deep dive into your creative life history. Day one will include some examples.  Day two will be assembling your 3D timeline, examples could be an altered board game, an altered book, a photo cube and more.  Please plan to attend both sessions.
This workshop is geared towards older teens, adults, and seniors.
----------------
About Angela Johnson's Pinney Library Studio Artist Residency:
PROCESSING: ART AS HEALING
How does art heal you?
What have you learned through art?
ANGELA'S RESIDENCY TERM: September 2022 - December 2022
ANGELA'S IN-STUDIO CREATIVE TIME: Thursdays from 12-2pm at Pinney Library
ANGELA'S OPEN STUDIO DROP-IN & MAKE: Thursdays from 2-4pm at Pinney Library
Pinney Studio RESIDENCY OVERVIEW:
As an artist who works in bookmaking, box making, alternative photo processes, art journaling, and installation art (with a focus on storytelling through family stories!) Angela Johnson invites Madison adults and seniors to come explore new art mediums with her.
Angela sees the tools of creating as a way to process ideas, she plans to host weekly open studio sessions and workshops for the community throughout her time in residence. These opportunities will be focused on different media/processes each month with an emphasis on storytelling through thinking outside the box.  Learn more about Angela on her website(link is external) (external link).
This is a two-day workshop (10/29 & 11/5). Participants must be available for both sessions. Register at the link for Day 1.