events
90707
MadTech Series: Data Flexibility with Google Sheets
MadTech Series: Data Flexibility with Google Sheets
Description
Image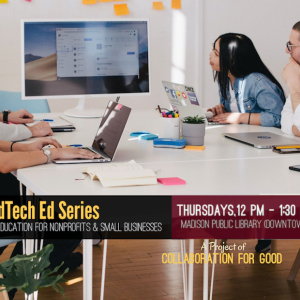 Join us for lunchtime learning with Collaboration For Good. In-person at the Central Library. FREE, registration required
Google Sheets is a powerful spreadsheet application. In fact, in the world of spreadsheets, most people have ONLY heard of two— Microsoft Excel and Google Sheets. Google Sheets is one of the best tools you can use to store data— which is our focus today.
While Google Sheets is also a wondrous tool with countless features and functionalities— storing and tracking data, creating budgets, tracking performance metrics, and creating dashboards, reports, and more.
Today, let's talk about how Google Sheets can serve as a data hub, that allows you to rapidly connect other work tools together.
WHAT IS COVERED IN THIS SESSION?
Google Sheets— the Rapid Basics (it's a spreadsheet)
Sheets vs— Excel, Databases, Other Tools
Transport— Sheets can serve as a waystation to get your data elsewhere
Transform— transform your data into reports, dashboards, mobile apps
Q& A— What Do You Want to Know?
Series
MadTech Series 2022