events
90706
MadTech Series: More than Marketing with Mailchimp
MadTech Series: More than Marketing with Mailchimp
Description
Image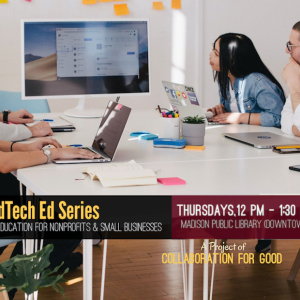 Join us for lunchtime learning with Collaboration For Good. In-person at the Central Library and virtual via Zoom. FREE, registration required
Mailchimp has long been one of the Top 3 email management services. If you need to communicate with 250 to 250,000 or more email addresses, you've learned that Outlook, Yahoo, Gmail, and other mail service providers fall short. Mailchimp and services like it give you the power and resources to handle large mail distribution, design pretty + targeted messages, and more.
Throughout the years, Mailchimp has enhanced its services for nonprofits and small businesses greatly. From a small web presence to online stores to appointment scheduling to landing pages, Mailchimp has grown. This workshop will talk about how to use Mailchimp to grow the work you do, regardless if you are just starting up or a well-established organization.
WHAT IS COVERED IN THIS SESSION?
Mailchimp— the Basics (email management)
Mailchimp— the New (basic business presence, cheaply)
Rapid How-Tos— Simple Automations
Rapid How-Tos— Website, Landing Pages, Stores
Q& A— What Do You Want to Know?
Register here
Series
MadTech Series 2022