events
67139
46 First Ladies Reading & Reception
46 First Ladies Reading & Reception
Description
Image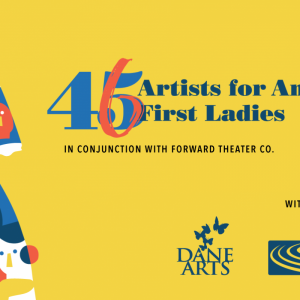 All are invited to gather and celebrate the collaborative art exhibition of 46 Artists for 46 First Ladies currently on display at Madison Public Library in partnership with Arts + Literature Laboratory and Forward Theater Madison. This President's Day (February 21, 2022) we commemorate the women who not only occupied the White House, but helped shape administrations and the country, for better and sometimes worse. Join us for a poetry reading and art exhibition on the third floor of Madison Central Public Library (located at 201 W. Mifflin St, Madison, WI). Poets include Katrin Talbot, Rita Mae Reese, Sasha Debevec McKenney, and Rachel Werner.
This event is free and open to the public.
--
46 Artists for America's First Ladies:
new works inspired by the lives of the women who have served as America's First Ladies

The First Ladies of America rarely hold a legacy that is fully their own. In history, leading narratives focus on the dominant perspective - that of the main character, leaving the details and experiences of their counterparts to be forgotten or filled in over time. Obscured histories and archives leave space for creative interpretation.
This exhibition explores a vast array of interpretations of these women who span and influenced American history, through the lens of local, women artists. Throughout the works there is a critical eye that captures each artists' unique awe and judgement, questioning and curiosity. Displayed alongside books from the library's collection we see a diversity of visual storytelling, which aims to add fresh woman-driven perspectives to today's narrative.  
-- 
THE ARTISTS:
This exhibition brings together a diverse group of 46 local women artists, which includes artists of all ages from students to seniors, artists of color, LGBTQ+ artists, and artists with disabilities (though partnership with Arts for All Wisconsin and Artworking), working in a wide variety of mediums - painting, embroidery, poetry, sculpture, book arts, collage, wood, printmaking, glass, drawing, and more! The 46 participating artists and writers were randomly assigned one of the First Ladies in December 2020, and had 3 1/2 months to research their subject and create a new work in any medium. The only requirement was that it be 12"x12" in size with any reasonable depth.
https://www.madisonbubbler.org/46-artists-for-americas-first-ladies