events
60315
Authors Speak: Drawing Workshop with Heather C. Williams
Authors Speak: Drawing Workshop with Heather C. Williams
Description
Image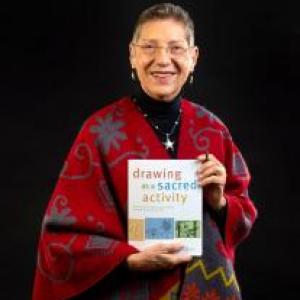 Join us for this five-week drawing class with Heather C. Williams, author of Drawing as a Sacred Activity.
Heather C. Williams earned her Bachelor's Degree in Art and Humanities at Wisconsin State University-Oshkosh, although she began drawing early in her life as a way to learn about the world around her and within.  Now, she invites you to join her in exploring the courage that it takes to be curious about what is going on around us in the world today and learn more about your deeper SELF.
Come embark on a journey of self-discovery through art as the author helps you become more acquainted with the three kinds of drawing (Observational, Self Observational and Intuitional). You will learn to listen to the deeper part of yourself, to temporarily suspend judgement and just BE, while you learn to love and accept yourself exactly as you are right now (in the midst of change).​
All drawing workshop events will be held via Zoom. You may participate using your own device, or visit Alicia Ashman Library, Goodman South Madison Library, ​Meadowridge Library, Pinney Library, Sequoya Library, NewBridge Madison-North, and Goodman Community Center to participate using a borrowed device.
If you wish to borrow a device and/or use the meeting room at Pinney Library to attend, please register on this page, below.
Workshop Dates:
Tuesday, November 2, 1:30 pm - Vertical, Horizontal and Diagonal Directions
Tuesday, November 9, 1:30 pm - Intersections, Y shapes, Anchor Points
Tuesday, November 16, 1:30 pm - Constellations
Tuesday, November 23, 1:30 pm - Shading
Tuesday, November 30, 1:30 pm - Finished Portrait
Per order of Public Health Madison & Dane County, masks are required in all indoor spaces for those age 2 and up.