Events
30411
ONLINE-Crafternoon! Presents: Make a Cheeseboard (tentative) - Repeated
ONLINE-Crafternoon! Writing for the New Year, and make a vision board journal!
Description
Image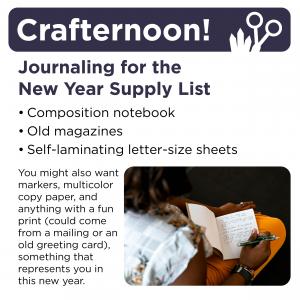 Join us for a creative virtual space centering Women of Color. Allies welcome.
Come and learn how to make a journal that will pull out of you the very best of who you are and remind you of your goals for the year. Then we will engage in some fun and fast writing in our new decorative journals.
Supplies needed: Composition notebook, old magazines, self-laminating letter-size sheets. You might also want markers, multicolor copy paper, and anything with a fun print (could come from a mailing or an old greeting card), something that represents you in this new year.
Teaching Artist: Araceli Esparza, a local Latina poeta, with deep migrant worker roots, with an MFA from Hamline University, will guide you to the new year with this fun interactive activity.  Learn more about her work: https://araceliesparza.com/about/
This virtual event will be hosted virtually through Zoom. The link to this program will be sent to you by email when you sign up. Zoom is a free video platform, and you can watch on a browser, or through the free mobile app for ios or android. The event will also be recorded and posted to the Library's YouTube channel at a later date.
Crafternoon! was begun by Britney Sinclair in Madison-area homes to create social spaces where Womxn of Color were free to be their authentic selves. Madison Public Library is proud to present Writing for the New Year, the second in a virtual series of Crafternoon! events, as an online social space for Womxn of Color (and allies) to connect, create, and practice self-care in partnership with Bri Creation Station and Wisconsin Mujer and other generous donors.