Events
30410
ONLINE-Crafternoon! The Art of Charcuterie
ONLINE-Crafternoon! Charcuterie: The Art of Cheseboards
Description
Image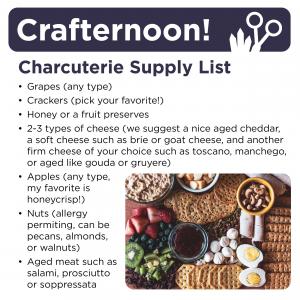 Crafternoon! offers creative and rejuvenating spaces centering Womxn of Color and their allies. This month, join Megan Diaz-Ricks, nonprofit executive, cheeseboard enthusiast and founder of ALMA Board and Box, in an online class about the art of making the perfect charcuterie board for friends, family, or just yourself! 
Why cheeseboards? We are in Wisconsin! This trend has been a hit with all age groups and is an excellent way to unwind and learn a new (and delicious) craft. Registration is required and you will need to provide your own supplies. Please click the Sign up/register button to display the supply list. 
This virtual event will be hosted virtually through Zoom. The link to this program will be sent to you by email when you sign up. Zoom is a free video platform, and you can watch on a browser, or through the free mobile app for ios or android. The event will also be recorded and posted to the Library's YouTube channel at a later date.
Crafternoon! was begun by Britney Sinclair in Madison-area homes to create social spaces where Womxn of Color were free to be their authentic selves. Madison Public Library is proud to present Charcuterie: The Art of Cheeseboards, the first in a virtual series of Crafternoon! events, as an online "safe" social space for Womxn of Color (and allies) to connect, create, and practice self-care in partnership with Bri Creation Station, and with generous in-kind support from the Willy Street Co-op.