events
126629
Community Feedback Session: Shape the Future of Madison Public Library
Community Feedback Session: Shape the Future of Madison Public Library
Description
Image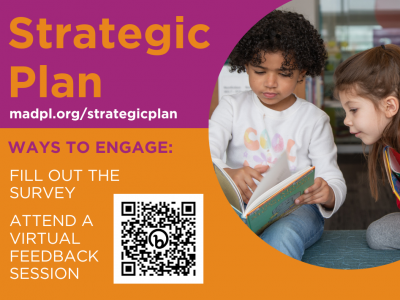 We need your voice to shape the future of the library!  Madison Public Library is developing a three year strategic plan to best meet the needs of the community. Your input is key to creating a cohesive and successful vision for the years ahead. 
Attend a lunchtime virtual community feedback session scheduled for September 20, 2023 @ 12-1:30pm. The listening session will last approximately 90 minutes and will be facilitated by representatives of The Care Plan.
Please register to receive the link for the virtual feedback session via email.
The final strategic plan will be shared with the public in winter 2023. All participants will receive an email with the strategic plan when it is completed.  Learn more or follow along on our Strategic Planning page.
Can't attend our virtual community feedback session?  Take a quick online survey instead to share your insights about how you currently use the library and how we can improve services in the years ahead.
Strategic Plan web page